Fall Play Brings Comedy and Mystery To Must-See Show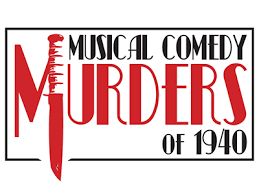 When it comes to the WFBHS Theater Department, we never quite know what to expect. After a year of only virtual performances, they're back in the swing of things and everyone has high expectations for the upcoming Fall Play, The Musical Comedy Murders of 1940. While it's not the most popular and well-known show, like Legally Blonde or Grease; that shouldn't stop you from getting a ticket to watch this must-see performance. As you may guess from the name, this story takes place in the 1940s, with 10 very unique and funky characters. From a futureless comedian to a German housekeeper, expect to see it all.
In the play, a very wealthy financial backer, Elsa Von Grosesenknueten, creates a creative team and selects actors for an "audition" in her giant mansion. All of a sudden, the infamous killer, "The Stage-door Slasher" makes a reappearance and strikes again. As the team works to prepare their performance, a blizzard ensures their captivity, and bodies start to drop in plain sight, knives spring out of nowhere, masked figures drag their victims behind swiveling bookcases, and accusing fingers point in all directions. As the night goes on, the true intentions of the characters become ever more apparent. Chaos and espionage blend together in this Agatha Christie meets Clue murder mystery. 
One of the most exciting things about this production is the set-design. Stage Crew has been working very hard over the last few weeks to prepare a splendid one-room design with secret trap-doors, sliding bookshelves, and hidden compartments. The character Marjorie says it best, "A secret passage Elsa? Where does it lead? My goodness, Nancy Drew would be in seventh heaven here, wouldn't she?" 
Ms. Kind-Keppel, the director of the show said "What I love about our fall play this year is that it combines the suspense and excitement of a murder mystery with the humor and delight of a ridiculous comedy.  The audience can both laugh until they cry while trying to solve an intriguing who-done-it.  Outside of the story itself, our Stage Crew is building an extraordinary set that create[s] a world of intrigue (thanks to Mr. Miller's brilliant stage design and the Stage Crew's skill, passion, and hard work).  The actors are working tirelessly to craft and perfect the eccentric, mysterious at times, but always hilarious characters." While acting and set design are key parts of the show, Ms. Kind-Keppel added that there is also a focus on "striking, gorgeous 1940s costumes (thanks to Ms. Peterson's awesome costume design and Sophia Thomure's fashion expertise). With all these amazing parts, The Musical Comedy Murders of 1940 is definitely a show you don't want to miss!"
 With such a quirky plot and set design, the cast and crew have a lot of pressure on them to keep the audience on their toes. The 10 actors will have to carry through with their storytelling skills…and German accents. Plus, with such a complicated set, let's hope that crew can really bring the manor to life, and show us the best set of swinging bookcases we've ever seen. 
As the theater department always does, I 100% believe that they will carry through and pass the high-set bar of expectations that already stand from their past performances. 
So, come support your peers at the show on November 12,13, and 14! Tickets can be bought at wfbhstheater.com or at the door before the show starts.