A Look At The Cross Country Season
Since the cross country season started in August, both the boys' and girls' teams have been successful. The boys' cross country team has won two meets, and the girls, according to the Wisconsin Cross Country Coaches Association, are ranked 3rd in the state.
When asked what the final weeks of the season would look like, senior Jonathan Lukas said, "We need to continue doing hill workouts, do lots of ab workouts and carbo-load".
As senior Jonah Block put it, "If we want to do well at the last few meets then we have to put money in the bank during the regular season and make big withdrawals at sectionals and state". Fellow senior Owen Bostwick echoed Block's words, and added that to be successful, "we need to work hard every day".
Both teams' next meet is the Conference meet, on Saturday, October 16th. Varsity runners senior Caroline Davis and junior Natalie Miller agree that Whitefish Bay's biggest competition at Conference will be Middleton. Competition aside, sophomore Mary Block is looking forward to adding another year to the team's 21 year Conference win streak.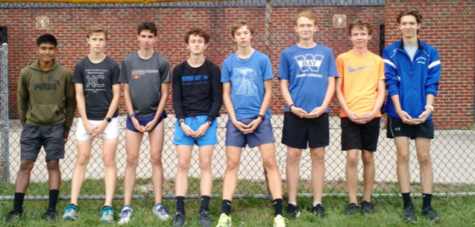 Boys' Varsity Cross Country Team (Left to Right: Bishesh Karmacharya (10), Nicholas Hall (11), Jonah Block (12), Jonathan Lukas (12), Owen Bostwick (12), Andrew Jamison (12), Kyle Bartel (12), Noah Vedder (10))
This season brought things missed last year due to Covid-19, and both junior Nicholas Hall and sophomore Noah Vedder agreed that "it's nice having a greater diversity of courses after having all the meets last year at two courses".
Several traditions that were last seen two seasons ago were also restored this year, like spaghetti dinners and team bonding over, as junior Maya Stevic said, "Nicki Minaj. Also, Bel-Air on Humbolt Avenue is the team's favorite restaurant to go to after meets. Overall, we are a close team". There has also been a new emphasis on the boys' team motto, "Run, Mung, and Don't Be Dumb".
To bring it home, sophomore Bishesh Karmacharya said he likes how the entire team works hard towards a common goal and everyone's dedication to the sport is what he likes the most about cross country.
Go support the teams at Sectionals on Saturday, October 23, at Lincoln Park Golf Course!